Our Story
We are a British Expat family living and working in Singapore, unashamedly in love with Bali. In 2013, we even got married here, and as soon as our daughter's passport came through, when she was just 3 months, we took her to the island.
However, in an understatement of the year, once we became parents, our trips were never the blissful, restorative experiences that they once were. In fact by the time we had survived airports and flights, packed and unpacked, spent a week looking out for (and bickering!) about accidents waiting to happen (we're looking at you, coffee tables with sharp corners) and baby-proofing a hotel room or villa, we would often return home more exhausted than when we left.
We designed and built Villa JOJU, which is named after our own little rascals Jolie and Jude, with the aim to address all of these little things that often go unnoticed by non-parents, but can make or break a vacation experience for families.  We are so excited to welcome parents and their little ones to Villa JOJU, Canggu's only luxury villa designed around the unique needs of young families.  Finally, a holiday that feels like a holiday (remember that?!)
Michelle & Ben
January 2019
TOYS AND BOOKS!
We have stocked the villa with plenty of toys, doll's houses, arts and crafts, and books. Their favourite characters from Paw Patrol, Shimmer and Shine, PJ Masks, Disney, Peppa Pig will greet them in our Kid's Room.  Our Gruffalo inspired mural should let you know that we are also massive Julia Donaldson fans, the book shelves are lined with her beautiful children's stories for our young guests to enjoy.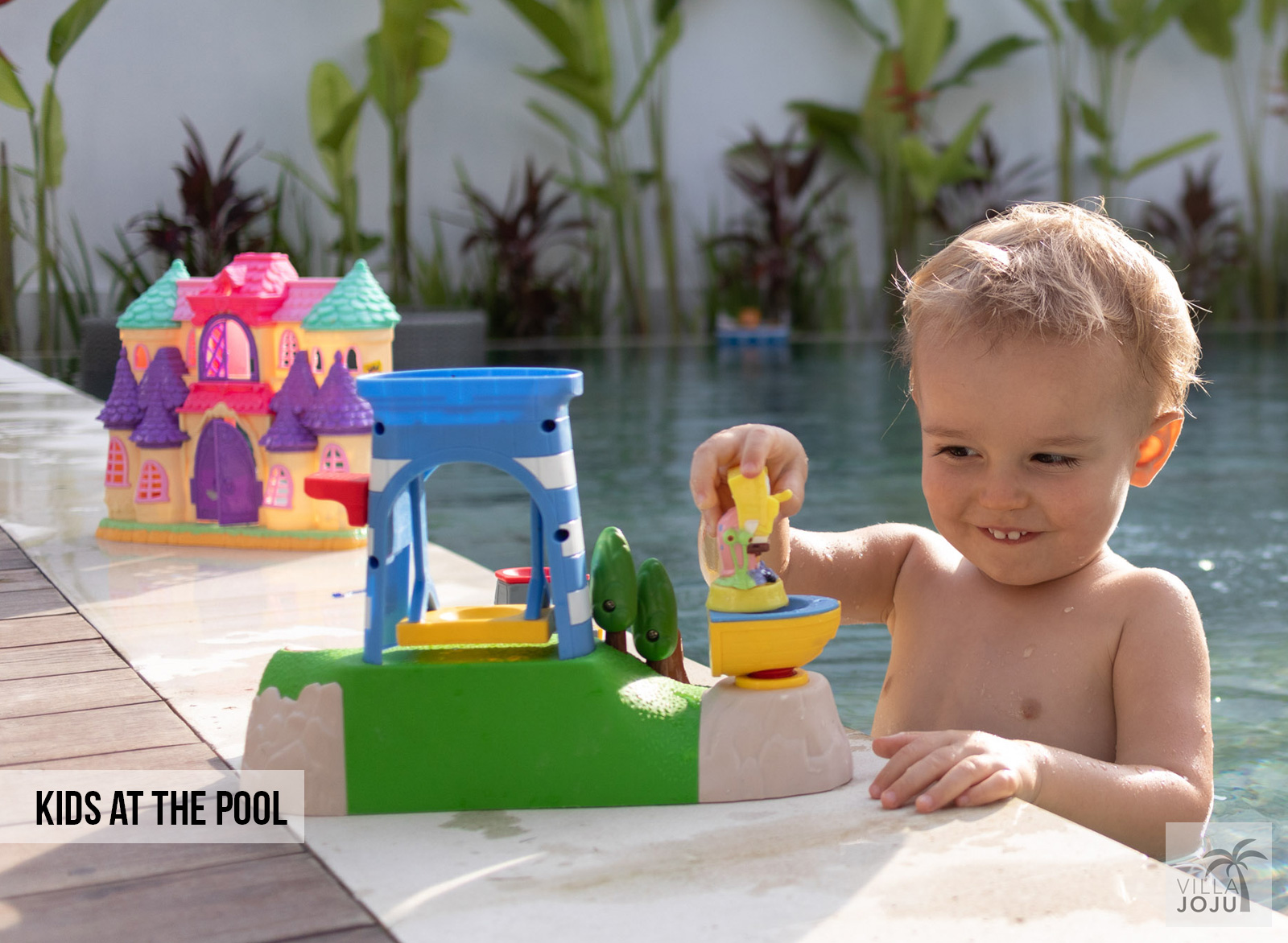 Kids at the Pool
Pool fences are available to hire, our staff will arrange the set-up for your arrival if requested. The villa boasts an abundance of pool noodles, water toys and inflatables in the pool toy box too. Just from watching our own little ones play with their friends, we noticed how they might have a whole pool to themselves but liked to stay on the steps at waist depth and make-up little stories with their toy characters . It's for this reason our pool is an L shape, with a whole section designed as one extra-large 'step' for play.
We tried to nip any potential source of stress or injury in the bud when we designed Villa JOJU. You will see that staff will always place non-slip mats at access points to the house, so that lovely little feet wet from the pool stay upright!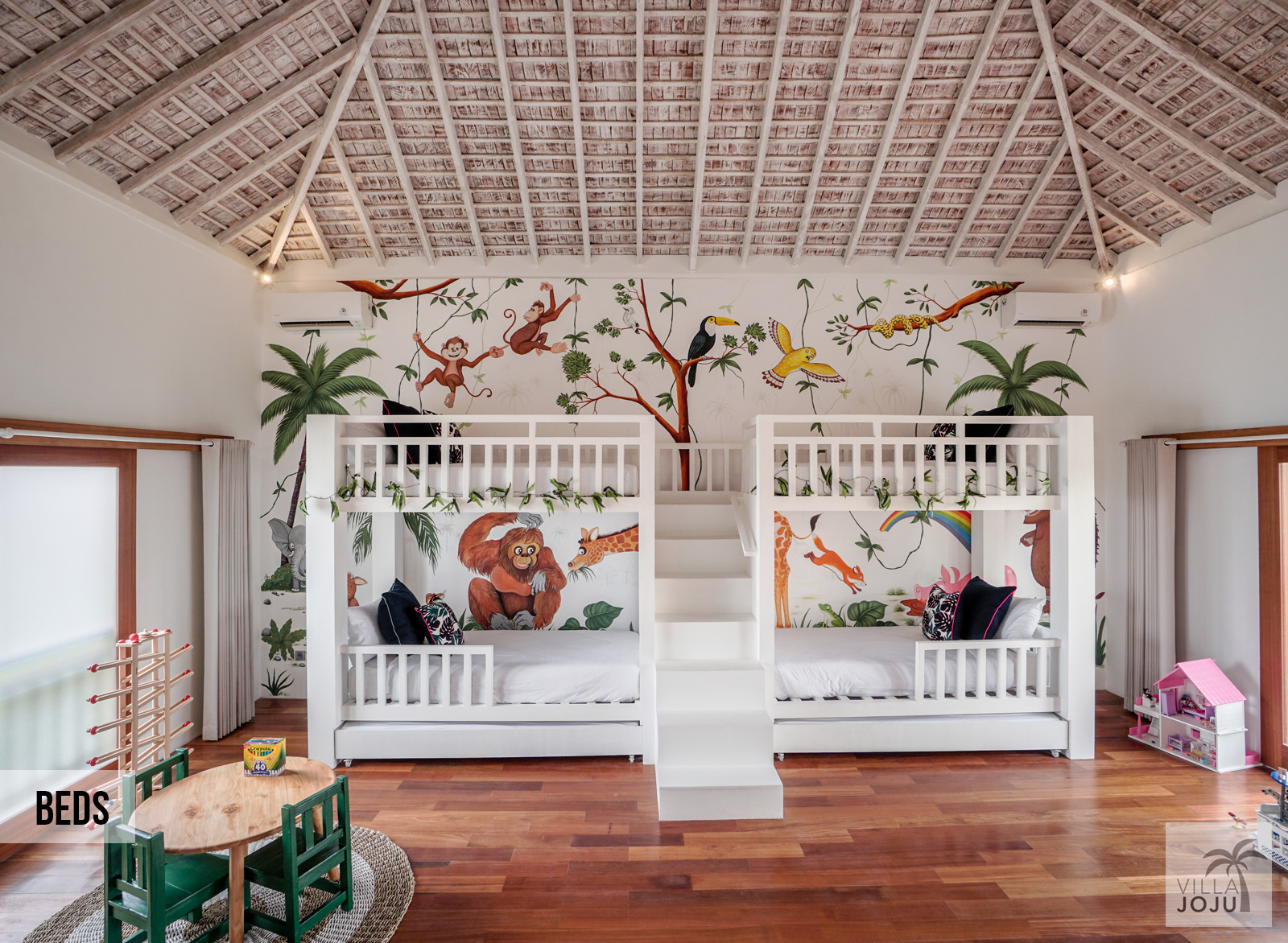 Beds
The kids absolutely love our custom made double bunk beds, complete with an actual staircase (with safety hand rail!) through the middle.
The two roll-out beds at the very bottom can also be moved easily throughout the house – in case other families would prefer to have their little ones room in with them.  Travel cots are also available for infants to room in with parents.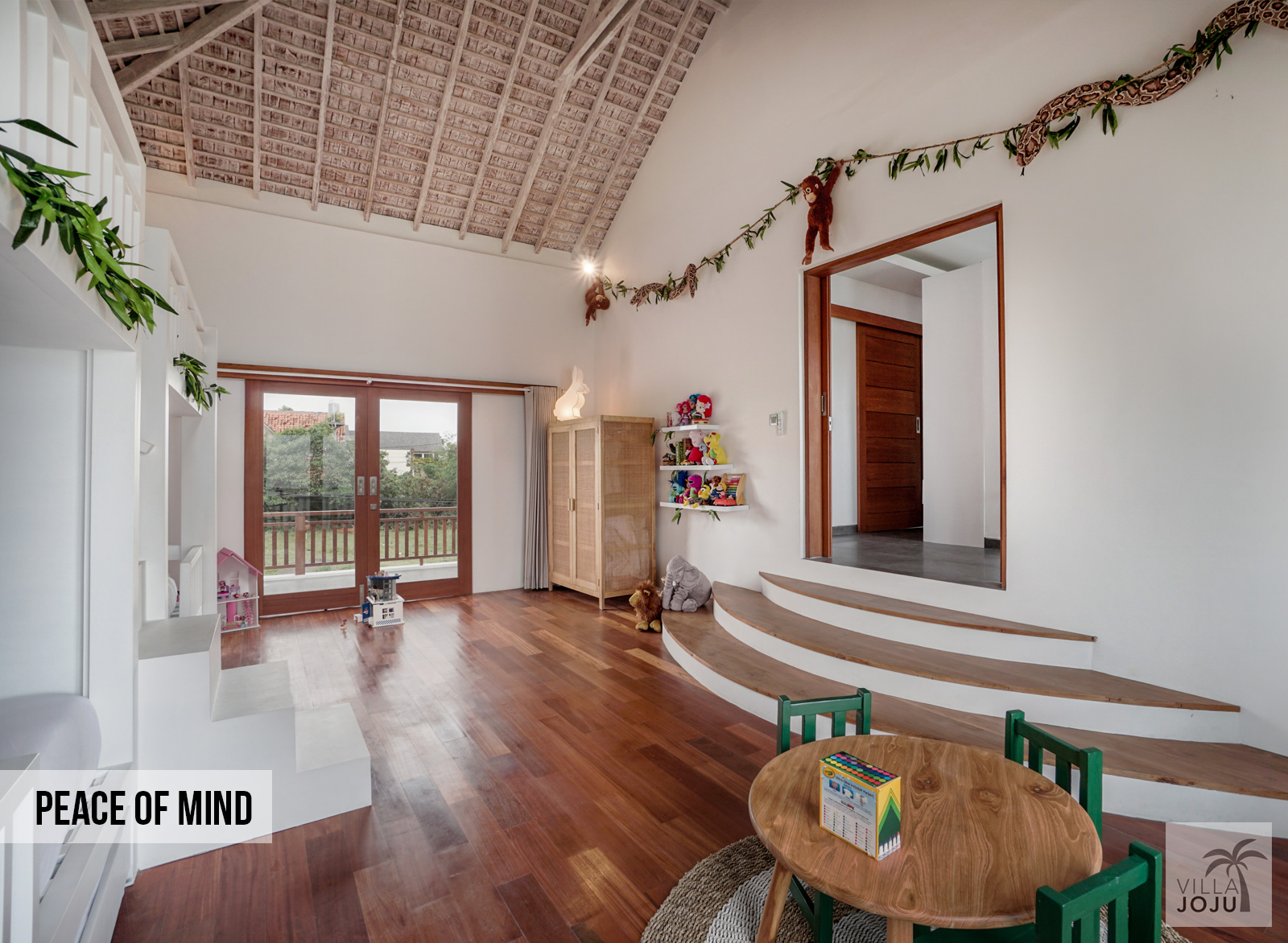 Peace of mind
For peace of mind, the Children's Room is accessible only via the Master. Little ones sleep in reassuring proximity to parents, while maintaining the privacy and comfort of separate rooms. The media room is also not far, so on nights in, parents can relax and watch a movie while remaining close by. Baby monitors are also available to hire.
Bouncy Castle
Our bouncy castle can be set-up in minutes, please let our staff know if you would like to get use of it. In our experience it is perfect for burning up some energy before bed, as it also doubles as a ball pit.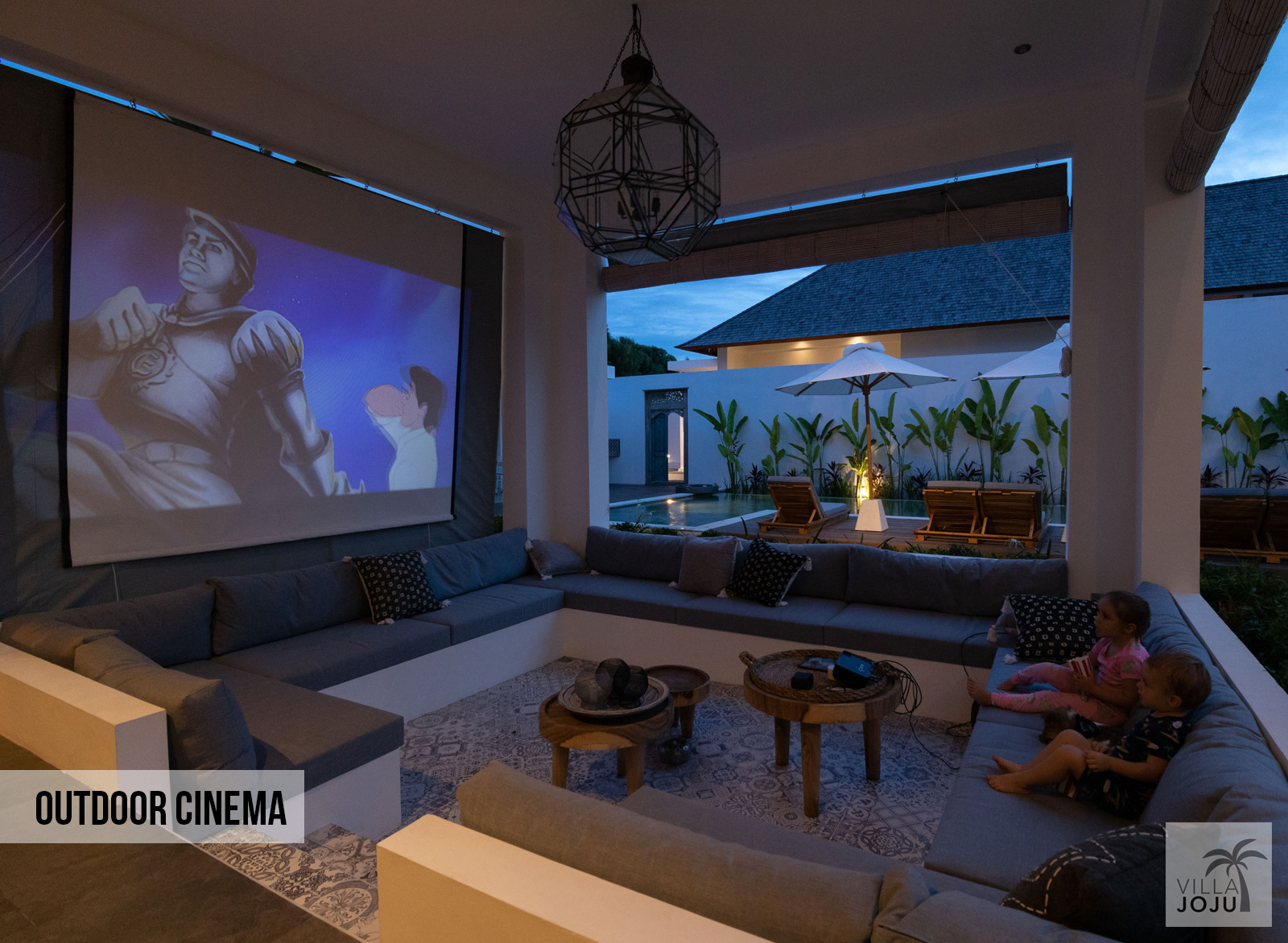 Movie Nights
When the sun goes down (or before, if kids would like to take advantage of the villa's black out curtains!), our staff will help to transform the sunken lounge into an outdoor movie theatre. Popcorn will be served as they enjoy a magical night watching one of the many family classics we have on APPLE TV or on Netflix. A complimentary unforgettable experience for kids!
Craft Workshops
Our staff are happy to help out with your children if parents would like a me-time massage or just a few minutes to enjoy lunch together. Mums and Dads are also welcome to participate! The workshops we run at JOJU centre around making non-toxic play dough and slime from scratch.  Exciting stuff!
Fish Spa
As strange as it sounds, we are yet to meet a child who isn't equally as excited as disgusted by the dead-skin eating Garra Rufa that inhabit our Garden Fish Spa!  Please share with us the on social media their screams of laughter as they are tickled by the tiny fish feasting on their feet #JOJUfishspa